Are you looking for overhead garage doors sales, service, repair, or installation in or around the Columbia, South Carolina (Richland, Lexington) area? It doesn't matter what garage door size your looking for, or whether it's a custom garage door, carriage house garage door, modern or contemporary garage door design – we have what you're looking for.
Standard Overhead Garage Doors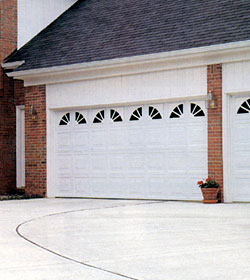 At Affordable Garage Door Repair Co. LLC, we realize that every person is different. Your home is a large investment and when it comes to selecting garage doors, there are many different options available. The different colors, designs, and decorative options are limitless.
Standard garage doors give your property a clean and classic look. They are low maintenance, and with so many styles and options available, you are sure to find one that fits you and the look of your building. If you are looking to replace a damaged garage door or to give your property a new look, Affordable Garage Door Repair Co. LLC can help.
We also install Door Link brand doors. Visit doorlinkmfg.com and pick out the door you want. Measure the height and width of your garage door and the distance to your ceiling. Then call us for a price. We can also install doors you may have already purchased. The most popular models are the 510 and the 430.